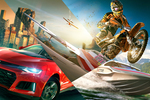 Ubisoft communique autour de The Crew 2 depuis quelque temps déjà, et désormais l'éditeur confirme une date précise de lancement.
Ubisoft était resté très vague concernant la sortie du nouveau volet de The Crew, évoquant une commercialisation entre les mois d'avril et octobre 2018. Finalement, on sait désormais que le titre sortira officiellement le 29 juin prochain sur PC, Xbox One et PlayStation 4.
L'éditeur profite de cette annonce pour préciser que la PlayStation 4 Pro profitera d'emblée d'un patch spécifique lui permettant de profiter de fonctionnalités supplémentaires (notamment un pack de textures ultra HD).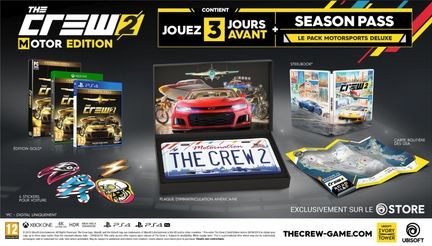 Ubisoft compte aussi séduire les plus impatients avec The Crew 2 Motor Edition lancé uniquement sur l'Ubisoft Store. Il s'agit d'une version spéciale du jeu contenant le titre en version Gold (avec season pass intégrant tous les DLC), le pack Motorsports Deluxe (toutes les tenues et véhicules uniques) ainsi qu'un coffret collector (intégrant une plaque d'immatriculation américaine, une carte officielle du jeu et 4 autocollants), cette version permettant par ailleurs d'accéder au titre avec 3 jours d'avance, soit dès le 26 juin.